Hey, check it out, there's exclusive content here! M. D. Grimm gives us a look into the writing process for Leopold.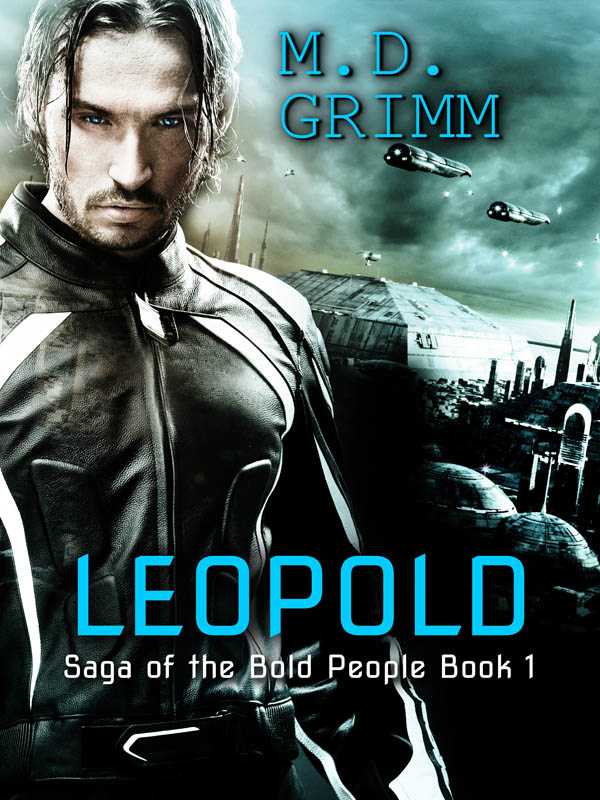 M.D. Grimm has a new MM sci fi book out:
How does a human survive in an alien dominated InterGalactic Community? By becoming an assassin, of course.
At least, that's what Leopold thought when he became an assassin for the elite. Pretending to be an alien known as Voidstriker, Leopold feeds his appetite for vengeance, killing aliens as well as taking their money. It's a win-win to his mind. That is, until a bounty is placed upon his head.
With his true identity now revealed to the IG Community, Leopold knows it's only a matter of time before the powerful family members of his victims come for blood. Far worse is the fact that the one who put the bounty on his head, is the one he most fears.
A routine job three cycles ago brought him face-to-face with Mastrodai, a prince of the powerful Mrrog Nation. Not only did Leopold—accidentally—destroy part of Mastrodai's moon, but one glimpse of the mighty alien had him feeling desire for the first time in his life. He ran, and like predator after prey, Mastrodai never stopped hunting him.
Leopold is convinced that Mastrodai wants bloody revenge. But when he finally confronts the mrrog, he is stunned to realize Mastrodai wants something very different. Something surprisingly intimate—the one thing that scares Leopold more than torture.
---
Giveaway
M.D. is giving away one eBook copy of her book Ruby: Lost and Found with this tour. Enter via Rafflecopter:
Direct Link: http://www.rafflecopter.com/rafl/display/b60e8d4729/?
---
Excerpt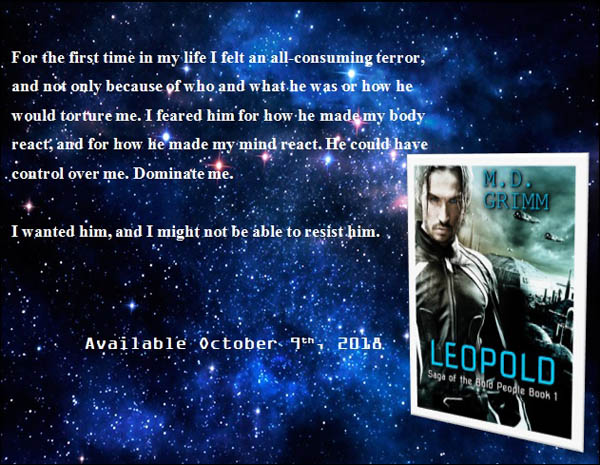 I climbed out the broken window onto the platform and tried to activate my holo-cuffs again. After several failed attempts, I realized they weren't going to help me. Damn things were shit! Swallowing my curses, I jammed on my helmet and started to climb down. By the third floor, the ladder had been broken. I would need to jump. Fantastic. Three levels down. If I landed slightly wrong I would at worst break something, at best sprain something. I had no choice. My helmet impeded by vision so I took it off. I dangled it from my fingertips for a moment before letting it drop. To me, the sound it made upon impact was like a crack of thunder, but it was merely a thud. I took a deep breath and crawled down as much of the ladder as I could, and hung there a moment, gauging my descent.
One, two… three.I let go and hit the ground on my feet and rolled, taking off most of the pressure. It jarred me, but nothing sprained or broke. Success!
I stood, about to grab my helmet, when I saw figures coming toward the mouth of the alley. I froze. I recognized them. They were mrrogs, and that meant he couldn't be too far behind.
I shivered violently, demanding my legs to move. It took them a moment before they finally got the idea. I crouched slowly on the ground before moving silently backward. One foot, one hand, one foot… on and on until I reached the other end of the alley. I kept myself against the wall, in the shadows, and knew they hadn't seen me. They were too busy contemplating my land cruiser. If they tried to deactivate the security system it would blow them up, along with the cruz. I would lose my baby, yes, but I would rather it be trash then have it in their hands.
I reached the end of the alley and continued to crouch until I turned the corner, and was out of their line of vision. My heart thundered annoyingly in my ears, and I bowed my head, steadying my breathing. Okay, my cruz was screwed. I couldn't open fire on them without alerting everyone in the vicinity. I couldn't run the distance to my ship and needed another way to get to it. I would have to steal a transport.
Great, I had a plan, such as it was. I stood, took two steps back for good measure, and ran into something. I stilled. It wasn't a building and it wasn't a transport as I was on the bloody sidewalk. No, it was a body. My heart fluttered, and I knew who it was without a doubt. My body knew, my damn, traitorous body. I could feel his heat pump against my own cold body, and I felt his chest move as he breathed. How did I not sense him behind me? My mouth opened in a silent scream because I knew this was it, I was caught. I shouted mentally at my legs to move but it was as if they were rooted to the blasted ground.
A small breeze blew from behind me, behind us, and I caught his scent. My stupid cock jumped to attention. Kill me now, please. He smelled wonderful. I wanted to close my eyes and wallow in it without any other thought in my head. I wanted to melt against him and have those strong arms—
My eyes had nearly closed when I popped them open. Out of the corner of my eye, I saw something move. I tracked the large arm, covered in a black sleeve, and the golden hand as it lifted and came toward me. My legs finally kicked into action, and I ducked agilely and rolled under his raised arm before straightening, and running faster than I ever had in my life. I heard him shout out orders in a deep voice. I realized it was the first time I'd ever heard him speak. Despite the situation, I thought he had a lovely voice. I jerked out of that stupid thought when I heard rapid footsteps behind me. Was he chasingme?
I glanced behind, saw the truth in those blazing yellow eyes, in that golden face, and pumped my legs faster. I wove and dodged around large trash bins, unable to keep myself from glancing back. Mastrodai simply leapt overthe trash bins, landing on his hands, and continuing on all fours to chase me, quickly gaining ground.
Shit, shit, shit!
Clouds rolled in overhead, and the moon grew darker, mistier. I needed to lose him. How? His large nose indicated his overdeveloped scent glands, and the way his eyes glimmered in the dark, when I dared another look behind, told me he had no problem hunting in the shadows.
I was so dead.
Recognizing the buildings around me, I swerved sharply to my right and raced down several narrow alleyways. The confined spaces forced him to throttle his boosters. He was still way too damn agile for someone his size, but he couldn't use his full speed in the alleys unless he wanted to run into a wall. The turns forced him to slow down just enough, and more and more I was starting to lose sight of him whenever I glanced back.
I let my own nose lead me to the large, festering trash pile set along a creek with questionable cleanliness. Trash was rarely collected this far out and, in this case, it would prove to be my savior. Granted, I enjoyed being clean, but survival called for disgusting measures, at times.
After a few more turns, I burst out in the opening and dashed to the trash. I took a deep breath, closed my eyes, and dove inside. Eewwww!I swam through the garbage and shut down my mind from speculating what it consisted of. After what felt like forever, I popped out the other end and sucked in a gigantic breath of the foulest air I'd ever tasted. That would kill his ability to track me, no matter how powerful his nose. Without stopping, I rolled forward and dropped to the ground. I didn't look behind for Mastrodai before staggering toward the creek and jumping it. The water was swift and sure and carried me farther down the city.
I managed to lose him for now, but it wasn't over, yet. Not even close.
The hunt was on.
---
---
Exclusive
Leopold – Evolution of story
Good day folks!
Thanks for joining me to celebrate my newest release, Leopold (Saga of the Bold People 1). It is an m/m romance sci-fi epic, and it's the first book of a 6-book saga. I am super excited to finally release this bad boy that's taken me around eight years to revise and edit.
Believe it or not, I have been working on this story for around 8 years! Not consistently, mind you. About once or twice a year I'd bring it out and look through it again. The last two years saw my greatest push to polish it up and set a release date.
I can't even say how many revisions and edits this puppy has endured. I wrote it when I was an itty-bitty college student without a published work to her name. I wrote it during either July or August. I didn't have classes and neither did I work at the time. All I did was eat, sleep, and write. Then, suddenly, I had a massive novel at over 200k words! No joke. It was a masterpiece to my mind (it was not), and I insisted my mom read it over and tell me how great it was. My poor, sweet mom tried to find a way to tell me it was a good beginning but certainly not a finished story yet. You see, it was a piece of crap. I will admit that now. I was still learning the tricks to writing and while the bones were solid, I needed to let it simmer before publishing. That same year, in December, I wrote the sequel, which was, likewise, crap. Then I put it away and worked on other manuscripts.
And so the process began. As I grew as a writer and received suggestions and tips on other books from fellow authors, editors, and betas, I would go back and tweak the story. I realized as I messed around with Leopold that he deserved more than one book, or even two. I soon discovered I needed to have freaking 6 books to tackle all I wanted to tackle. His story kept expanding, and he was never far from my mind.
You see, this entire project started with one little scene that Leopold beamed into my brain one day. No joke, he seriously dropped it into my mind fully formed. From that one intriguing scene grew this monster. He feels like an old friend, one that regularly irks me and makes me laugh, or roll my eyes in exasperation.
As I said earlier, during the last two years I've been focusing more on the story and now I know how to remove myself emotionally from a MS, so I stated the slashing and burning of some scenes and characters. I managed to shrink and streamline the story to around 170k words. Unfortunately, that still wasn't short enough for most small ebook publishers. So I decided to go the self-publishing route. There was no way I could cut more without losing vital pieces of the story, especially Leopold's growth.
This story is truly about Leopold and his evolution from an assassin with emotional issues and a survivalist complex to a fully-rounded man who can love and laugh and find some joy in life. I didn't set out to tell that story, it simply formed around that one scene. I couldn't be happier with the result.
Leopold needed to learn how to be human and that there was no shame in being one. It took an alien's love and affection to show him who he could be.
I am currently working on four series simultaneously (because I am a glutton for punishment, apparently) and several stand-alones with plans for a couple of trilogies.
I have three stories contracted with Dreamspinner Press for 2019: a vampire story, the latest shifter book (#13), and the prequel to "On Wings of Thunder."
Until next time,
May dragons guard your dreams,
M.D. Grimm
---
---
Author Bio
M.D. Grimm has wanted to write stories since second grade (kind of young to make life decisions, but whatever) and nothing has changed since then (well, plenty of things actually, but not that!). Thankfully, she has indulgent parents who let her dream, but also made sure she understood she'd need a steady job to pay the bills (they never let her forget it!).
After graduating from the University of Oregon and majoring in English, (let's be honest: useless degree, what else was she going to do with it?) she started on her writing career and couldn't be happier.
Working by day and writing by night (or any spare time she can carve out), she enjoys embarking on romantic quests and daring adventures (living vicariously, you could say) and creating characters that always triumph against the villain, (or else what's the point?) finding their soul mate in the process.
Author Website: https://www.mdgrimmwrites.com/
Author Facebook (Author Page): https://www.facebook.com/profile.php?id=100001710645622
Author Goodreads: https://www.goodreads.com/search?utf8=%E2%9C%93&query=md+grimm
Author QueeRomance Ink: https://www.queeromanceink.com/mbm-book-author/m-d-grimm/